KALA ASHRAM COLLEGE OF PERFORMING ARTS
(A Unit of Kala Ashram Foundation, Udaipur)
&

PACIFIC MEDICAL COLLEGE & HOSPITAL
(A Unit of Tirupati Balaji Educational Trust, Udaipur)
Present
ONLINE INTERNATIONAL DANCE CONTEST-2021
UDAAN 2021
(A Covid Charity event)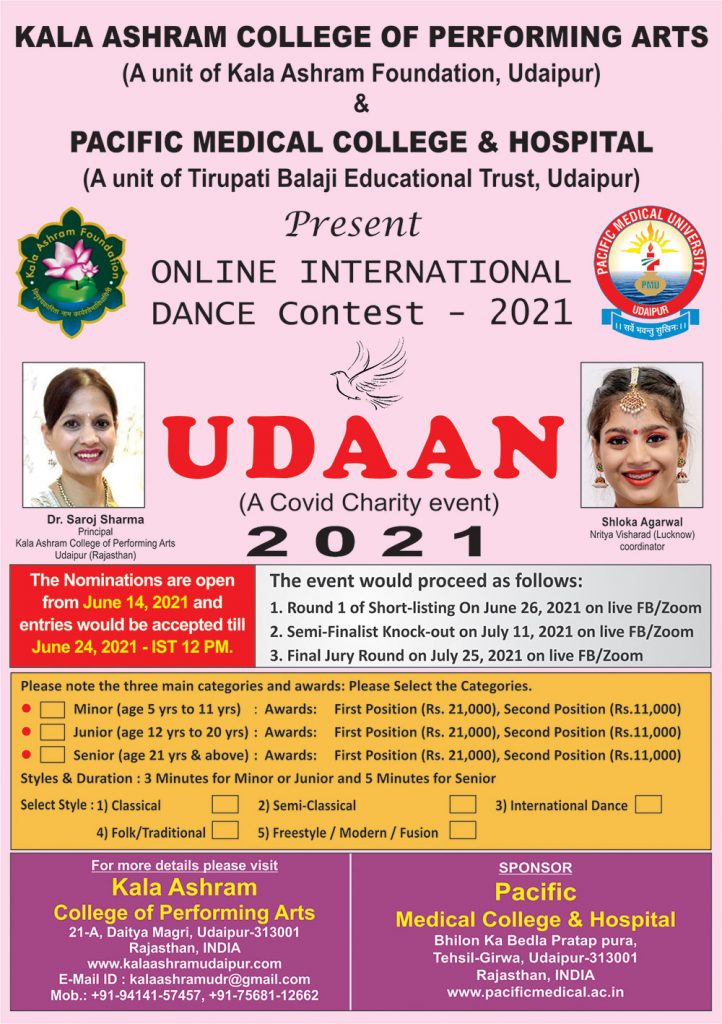 Participants can register themself through PayTM/Google Pay (+91-9414157457) or Bank Transfer with a registration fee of Rs. 500/- INR for India & $15 for outside India Registration. Please save payment receipt for upload in below form.
All entries should be filled in clearly and by the assigned dates.
The team would communicate updates of the short-listed entries and other information through email and live on Facebook / Zoom. Subsequent video-presentations would have to be submitted as per the time lines and guidelines of the team – for moving forward to the semi final round. All expenses of presenting the dance would be borne by the applicant.
Proceeds from the event would be contributed to a Covid Relief Fund.
Your presence at the final jury event is a must for being eligible for the contest.
Entry fee amount is non-refundable and the organisers reserve the right to accept or decline any application.
Applicants are strictly expected to observe dignity, discipline and decency during the entire course of the event – and specially during their dance presentations.
Bank Account Details
Name of Account: Kala Ashram Foundation
Name of Bank: HDFC Bank Ltd.
Name of Branch: Chetak Circle, Udaipur 313001 Rajasthan INDIA
Account Number: 50100327741942
IFSC Code: HDFC0000119
MICR Code: 313240002
Rules & Regulation:
Duration & slot allotted for the performance will be strictly followed. Contestants have to perform in the given slot & duration only. Under any circumstances the duration and slot shall not be changed.
Certificate of Participation will be given to all participating artists and Guru's.
Jury's decision is final, No interference by the contestants will be tolerated.
This competition is purely meant for promotion & preservation of Indian dance & culture on virtual mode.
Special time slots will be in accordance to the IST/GMT for time difference in India and other countries.
Lets's raise our wings and make the world better!
Apply now! See you there!
The event would proceed as follows:
Round 1 of Short-listing On June 26, 2021 on live FB/Zoom
Semi-Finalist Knock-out on July 11, 2021 on live FB/Zoom
Final Jury Round on July 25, 2021 on live FB/Zoom
Participants would be judged on multiple criteria like the message of positivity through dance, therapy/health angle of dance, presentation, confidence, costume and proficiency in a specific genre of dance. Candidates who are learning or practising classical dance forms are specially encouraged to apply for this competition. Once/if a candidate gets shortlisted, s/he should prepare a final video presentation as per the team's instructions and submit by July 10, 2021 IST 12 PM.
The three main categories and awards:
Minor (age 5 yrs to 11 yrs)
Awards:
First Position (Rs. 21,000)
Second Position (Rs.11,000)
Junior (age 12 yrs to 20 yrs)
Awards:
First Position (Rs. 21,000)
Second Position (Rs.11,000)
Senior (age 21 yrs & above)
Awards:
First Position (Rs. 21,000)
Second Position (Rs.11,000)
The Scope….
An Excellent opportunity to strengthen your artistic profile to the outside world.
A chance to perform on international Platform.
Enhancing your artistic creativity.
The spirit of contest & sense of recognition, inspire the artist to excel in the chosen field of art & set higher goals.
Develop confidence, a self leadership which later will turn the artist in to a model of integrity, sensitivity, awareness of their art talent & provide them with an sense of rich flourished life.
It's a wide opportunity to increase your fame and value through media.
For more details please visit www.kalaashramudaipur.com, E-Mail ID : kalaashramudr@gmail.com